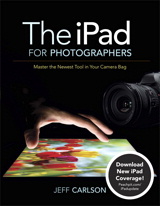 Jeff Carlson's new book from Peachpit Press, The iPad for Photographers: Master the Newest Tool in Your Camera Bag, does a great job of rounding up tools and tips for how to make your iPad part of your field photo kit. And the eBook version, at $15.99, can go right onto your iPad.
If you consider the iPad just a photo-viewing device, think again. I use Lightroom, always shoot in raw format and depend on my iPad for my field-to-desktop workflow. Thankfully, we've come a long way from the embryonic days when the release of the iPad-camera connector was a big deal.
Btw, his web site keeps you up to speed once you've absorbed the book's info. Jeff's also published an eBook on using Photosmith, which shows you how to use that app to tag and organize your photos while you're away from your desktop copy of Lightroom. After repeatedly hitting the wall with the app's own chock-full-of-blind-spots documentation, I found this the best $4.99 I've spent on photography.